Monday, December 31, 2007
the long awaited new columns are finally up!!!

BEE got knocked out in GR by UNO, a big dumb boot boy three times his size...right after backing down from a fight with a big black dude! i always thought skins were down for their own for the most part. guess i was wrong...

crappy new year from brown eye pie!!!

Saturday, December 22, 2007
hey dudes, quit getting on my ass about the columns not being up! ITS ALL GREEZE! I SWEAR.
that motha fugga not only is solely responsible for the loss of suckbomb.com, but he is also a slow fudge packin' woodsmen from the north! HAHA!
Anyways, I am renting a car and going to Florida for this awesome punk fest called 'this is for you fest' gotta get out of this shitty snowy state! BIKES AND SWIMMING HERE I COME.
when I get back I better see all of you loyal readers at the Southern Houses' last show.
I am moving to the HEIGHTS! woo hoo!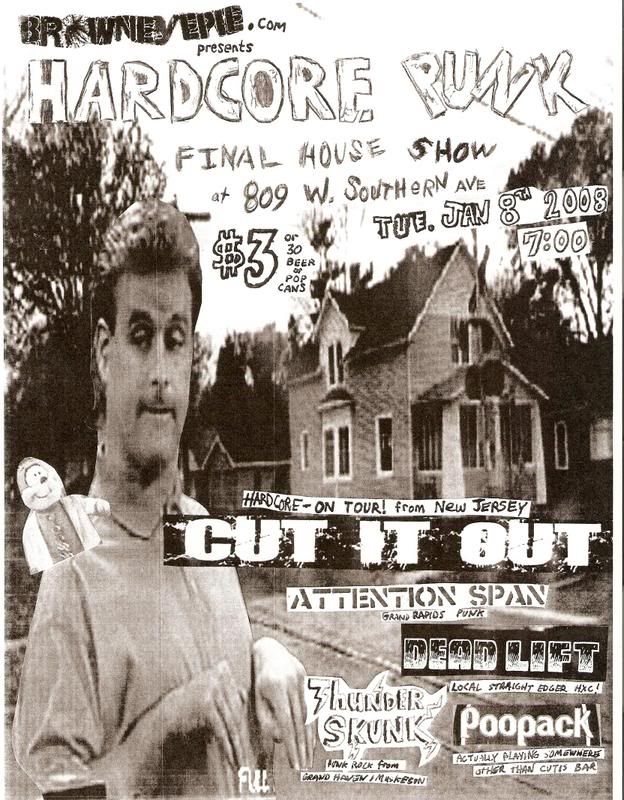 don't be an idiot. STAY PUNK!
-casey
Saturday, December 15, 2007
So real quick, the ivan cd release party was this past weekend, and I have all kinds of pictures from it. Check them out here:

http://s194.photobucket.com/albums/z35/tdodge41/Ivan%20GH%20CD%20Release%20Party/

Thursday, December 06, 2007
Quick bit:

Ice Pick Show this Friday
(12/07/07)

If He Dies He Dies
Reinventing Yesterday
Their Teeth Will Be of Lions

Same thing. You know the drill.

Be there.

Oh yea... who would be interested in doing a evangelist inspired show? Have everyone dress up as evangelists and heal people? Sounds awesome to me.